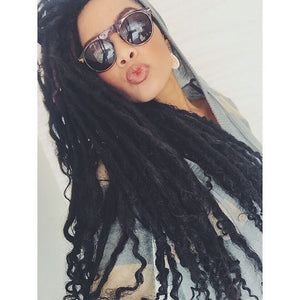 GODDESS FAUX LOC EXTENSIONS FULL SET (HUMAN HAIR 100 LOCS PERMANENT CLOSURE)
Sale price Price $ 450.00 Regular price Unit price / per
Welcome! Your Personal Loc Extension Journey by Khinky.com
NEW HUMAN HAIR  GODDESS LOCS DETAILS
STANDARD PENCIL SIZE  *Text for custom size
PERMANENT INSTALL CLOSURE 
Beautiful Curly Ends 
CHOOSE:LENGTH/COLOR/TEXTURE 
Material: 100% HUMAN HAIR
Partially Handmade Item
Ships Worldwide from Riverdale , New York
CUSTOM MADE TO ORDER
LASTS FOR  YEARS 
INSTANT LOCS W/NO WAITING
ADD TEMPORARY LENGTH OR  FULLNESS TO YOUR  LOCS 
Plan your look and receive your extension creation! We understand this is an important step for you, so emails us your questions at care@khinky.com.  For any special requests add a message to your order!  We look forward to designing your custom made loc extensions.Your order will be a handmade work of art. A full set takes  5-7 Business days to ship. Once your locs are prepared you will get an email and tracking number and your locs are on the way.
How do the Loc extensions work? 
This is a great solution if you have natural hair  and want to try locs without the full commitment . These locs can be added with the temporary crochet loop and Latch hook tool (included with package), then if you like the look you can cut open the loop and attach these locs permanently later on! 
This is an easy solution that you can install yourself or with the help of a stylist or loved one. 
We make the locs  temporary  with a crochet loop closure just select on you options.  
Our Goddess Locs are  human hair , they are the same but include the temporary closure & curly hair mixed in,  so you have a protective set of extension you can wear.  ORDER CURLY OPTION /TEMP CLOSURE
We hand craft the Loc to your desired shape and look and then process it to make  a loc that is extremely STRONG & LIGHT WEIGHT at the same time. Our extra light extensions are why our locs work so well for those with thinning hair. Our technique is not used in any salon. We create a loc that doesn't just look like a real dread....it is a real dread! Over time your locs will mature , tighten and change according to your own way of palm roiling , washing and taking care of them. They become your own and you experience a loc journey for many years.
What do I get in my package? 
The FULL SET includes 100 locs and includes the cost of the Hair, Organic Witch Hazel Aloe blend, Hair Tea Infuser set  and Loc Oil and LATCH HOOK  NEEDLE
I think I need a stylist can you help? 
If your hair needs a little TLC our luxury services include an at home stylist that will install your extensions in the privacy of your home for customers in the NY-TRI State Area.
For an additional fee of CROCHET LOC INSTALL $225 we will deliver your new locs , your supplies , we install and style your hair. Ushering you into the world of dreadlocks in a beautiful and loving way.  Please send us an email with photo & our stylists will work to guide you to the right direction. These are by appointment only.