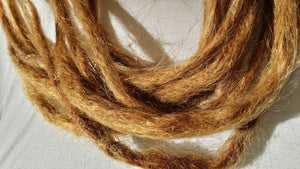 INDIVIDUAL LOCS - (1 EACH) LOC EXTENSIONS STRAIGHT TEXTURE
Sale price Price $ 4.50 Regular price Unit price / per
Human Hair Custom Made Individual Loc Extensions by Khinky.com
Would you like  a few single locs to to enhance or repair your hair? This is right option for you.  Send us a message and upload a picture of your locs. We will customize your order to create the match you are looking for. We can make any look and also create locs with many different textures, blended colors.  Email Info@khinky.com 
What do I get in my package? 
Whether you order 1 or 15 Locs, we hand craft the Loc to your desired shape and look and then process it to  make a loc that is extremely STRONG & LIGHT WEIGHT at the same time. Our extra light extensions are why our locs work so well for those with thinning hair. Our technique is not used in any salon. We create a loc that doesn't just look like a real dread....it is a real dread. Over time your locs will mature , tighten and change according to your own way of twisting, oiling , washing and taking care of them. They become your own and you experience a loc journey for many years.
When & How  do I get my Locs??
Your order will be a handmade work of art.  Shipping 5-7 Business Days
 You will get your locs by USPS. You will be able to track your order & receive a shipping confirmation by text/email.